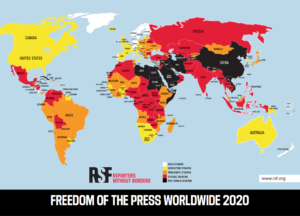 Every year the 3th of May marks the World Press Freedom Day which aims to raise awareness on freedom of the press and freedom of expression. On this day we wish to celebrate press freedom but also defend independency of media outlets. Press Freedom Day is an important reminder for governments to respect their commitment to those values. Celebrating this day allows journalists to better reflect on their work ethics and discuss the current challenges regarding press freedom.
The theme of the year 2020 is Journalism without Fear or Favour and it includes safety of journalists and media workers, independent journalism free from commercial and political influence and gender equality.[i] When thinking about fear in their field of work, journalists could be targeted, harassed, prosecuted and even risk their lives on the job. Journalism without favour means objectivity without pressure from outside. It's in the definition of press freedom that journalists are allowed to work freely in the society and that there is no pressure for obedience.
This year the global concern is to maintain press freedom during times of a global pandemic. Countries such as China, Iran and Hungary have increasingly caused worry due to the implementation of restrictions to media freedom.[ii] Governments need to act in order to stop the virus from spreading. However, the concern is that civil liberties are restricted during the special circumstances and not restored later. What makes the situation even more difficult is that during a crisis there may be an increased pressure to obey the authorities and avoid criticism. Nevertheless, it is important for the media to bring to light how government functions and to evaluate its actions in cases of violations. The criticism regarding crisis management is not an excuse to restrict freedom of the media.
Reporters without borders is an independent non-governmental organization (NGO) that provides information on press freedom around the world. It has released the Freedom of the Press Worldwide 2020 charts and Finland was placed 2nd out of 180 countries right after Norway.[iii] In 2017 when Finland was ranked the 4th, there were instances when media freedom was questioned. The biggest issues were prime minister Juha Sipilä's attempt to pressure journalists and a search warrant related to journalist's article about security. Freedom of the press is always changing, and the annual rankings show that any country can shift to either way in their development. Press freedom is not a stable situation, but all improvements require a lot of work. When president Trump and president Putin met in Helsinki in 2018, at that time Finland was called "land of the free press" in a viral media campaign. I think that is a great title and an even greater responsibility to fulfil. We can't mistake the current situation to be permanent, so instead we need to guarantee ongoing development and protection of press freedom.
Happy Press Freedom Day! Let's continue to demand independent media and safe conditions for journalists.
If you want to learn more, here are some links related to press freedom:
Reporters without Borders: "2020 World Press Freedom Index." Available: https://rsf.org/en/ranking
International Press Institute. Available: https://ipi.media/
UN News: "'No time to blame the messenger' warns UN rights chief, amidst media clampdowns surrounding COVID-19." Available:  https://news.un.org/en/story/2020/04/1062522
Essi Peuraniemi
The writer is TAYK's secretary and student of International Relations
[i] United Nations: "World Press Freedom Day" https://www.un.org/en/observances/press-freedom-day
[ii] Reporters without Borders "2020 World Press Freedom Index: 'Entering a decisive decade for journalism, exacerbated by coronavirus'"https://rsf.org/en/2020-world-press-freedom-index-entering-decisive-decade-journalism-exacerbated-coronavirus
[iii] Reporters without Borders "2020 World Press Freedom Index" https://rsf.org/en/ranking